Publications
Katchu Bugu: Juyo Bunka Shiryo Zuroku (Armor and Panoply: Pictorial Records and References of Important Cultural Properties)
During the yearly shinsa, some items are deemed to be 'Important Cultural Property' and thus receive the 'Juyo Bunka Shiryo' certificate. These items are included in a richly-produced, limited-edition publication, together with a detailed description and an image of each. There have been 5 books published thus far and all are now sold out and have become highly sought after collector's items themselves.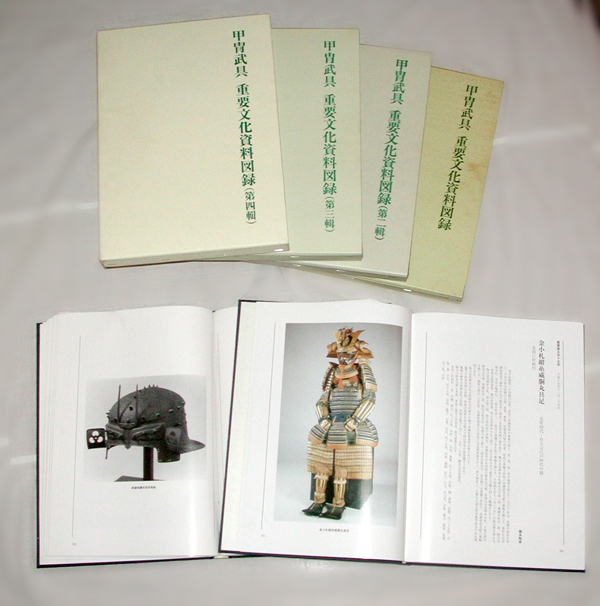 All books are size A4, only in Japanese.
Volume 1: Important Items 1 ~ 130 (First three pictures are in color, rest is black and white) (out of stock)
Volume 2: Important Items 131 ~ 260 (Black and white) (out of stock)
Volume 3: Important Items 261 ~ 390 (Black and white) (out of stock)
Volume 4: Important Items 391 ~ 525 (full color) (out of stock)
Volume 5: Important Items 526 ~ 632 (full color) (out of stock)
Quarterly Magazine (Katchu Bugu Kenkyu)
A quarterly magazine (in Japanese) is published with research articles, meeting reports, book reviews and new juyo items from the shinsa. For the past few years, the index and selected abstracts have been made available in English.
Partial Translation of the Quarterly Magazine
A selection of the most interesting articles from the quarterly magazine is now also translated in English. For a few years, that was a separate project (with separate payment), but from April 2017, this will be included in the normal membership fee for foreign members. There is of course a delay in publishing the English translations.
We will then contact you with further details.